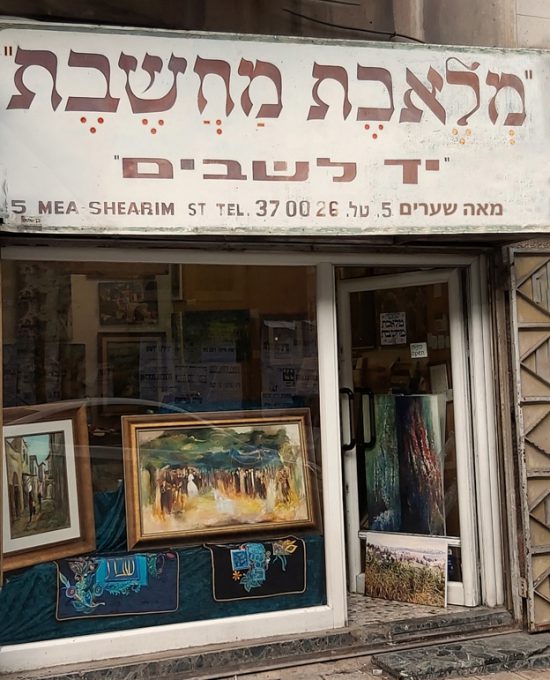 Melechet Machshevet Gallery
Amidst the charming, antique streets of Jerusalem of Gold, in the quaint, twisting alleyways of Meah Shearim is Melechet Machshevet, a Judaica gallery whose artwork is inspired by the history and majesty of the holiest city on earth.
Melechet Machshevet Gallery features a breathtaking array of Judaica and Jewish artwork by renowned artists who capture the magic and purity of Jerusalem in their original creations.  Choose from the finest selection of Judaica drawings, canvas prints or our unique mixmedia prints which combine the highest quality print with touches of color by the artist, all fully guaranteed.
Following our 30 year old tradition of excellence, we offer you personal, attentive service straight from the heart, ensuring that you select the artwork that touches your heart!
Thousands of satisfied clients have found themselves returning year after year to Melechet Machshevet to admire the latest Jewish artwork and purchase new pieces. They unanimously recommend us for our fair prices and comfortable payment terms that enable them to decorate the walls of their homes with the exquisite splendor of rare Jewish artwork.
For further information and to view our Gallery, please contact: 058-5370026
Yad LaShavim –
Center for Baalei Teshuvah
Since its inception, Melechet Machshevet Gallery-Yad LaShavim has served as a center for baalei teshuvah and their children.
We refer thousands of baalei teshuvah and their children to appropriate educational frameworks, courses and lectures on Judaism, sponsoring eye-opening seminars and inspirational gatherings for women and girls to strengthen Jewish faith. Simultaneously, we offer help and support, loans and scholarships for vocational training, as well as financial assistance to baalei teshuvah seeking to opening businesses, while escorting them spiritually and guiding them to overcome their challenges.